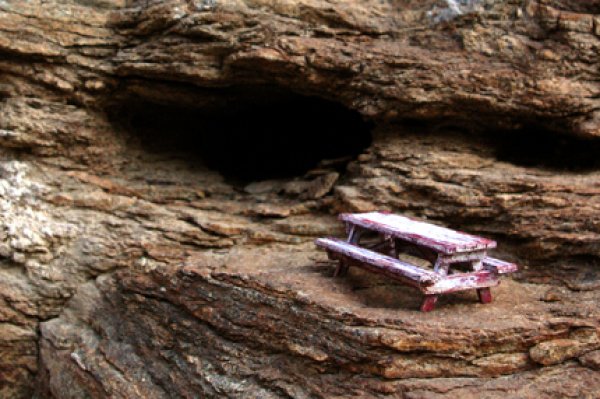 The Suboken Project has been producing in full force over the past couple months. An eagerness to get things back on track after the loss of the Drobo hard drives has fueled my efforts in finishing up current projects as well as creating new work. So, shall we visit with an update on what Suboken has been doing?
The November gallery show at the Palm Desert City Hall is right around the corner. There's a healthy amount of work left to get ready for the show, but I'm on schedule, and that's a huge comfort for Calista and me. The show will feature pieces from The Cartographer's Dilemma sculpture series, as well as the entire collection from In A Place: Series Two.

Yes, you read that correctly. All twenty images of IAP:S2 have been recovered! There's an old piece of advice I was once offered while living in San Francisco. Never throw an old hard drive away. After rummaging through my collection of former project hard drives, ones used before I converted to using the Drobo, I was able to locate In A Place image files collected during the first several years of the project.
As it stands right now, IAP:S1 and IAP:S2 are completely intact. There are many images that appear to be gone forever, but at least all is not lost. However, the master file for the In A Place coffee table book is gone. The only current PDF copy of the book lives exclusively on my iPad, and I'm looking into solutions for getting it off of that device. The trick is that the PDF was transferred to the iPad via my computer and is now locked since the original file is "missing". Any suggestion on possible solutions would be greatly appreciated (note that the option to email the PDF is not available).
I'm also planning to debut select images from In A Place: Series Three at the November show. These images were mostly taken during the summer with the new camera. I'm very excited to share these at the show.
As if producing the many pieces for the November show wasn't already enough, I've been asked to return and produce this year's LEGO Trophies for SMaRT Education's Nature's Fury FLL Qualifying Tournament. The design for these trophies has already been completed, the LEGO pieces ordered and shipped from bricklink.com. We're in the process of simply gluing them together.
I was tempted to post some production images in this blog update, but sitting on the suspense for a few more days is too much fun to pass up. I will be strategically posting images of the trophies shortly before the event. It's an exclusive that I simply can not pass up.
With all of this work to produce, I have had the opportunity to explore a concept that was part of the original goal when creating The Suboken Project. But I'm saving that story for a later blog. There are so many projects I can't wait to share with you, but I'll sign off this evening's blog entry by saying that things are great. I have no regrets in pursuing a life as an artist.